Omega Digital and Crestron support PwC with new SA head office
Global professional services firm PwC has established a 26-storey headquarters in South Africa, the technological infrastructure for which has been installed by IT consulting firm Omega Digital. The IT services firm has selected Crestron as the desired solutions partner to manage the tower's digital enhancements.
PwC's new South African headquarters is based in the Waterfall City in South Africa, consisting of 26 storeys. The office will act as a nucleus of operations for the Big Four accounting and advisory firm's 23 offices across the country, relying on the services of over 4,800 professionals.
The firm's digital partner in establishing this new head office has been Gauten-based IT services firm Omega Digital. Alongside general consulting services, the firm offers a broad range of services in the digital domain, including cloud computing, unified communications, video conferencing, audio visuals, and – most pertinently – workspace management.
In turn, Omega Digital has selected Crestron as a partner to provide digital solutions and technologically equip the new tower. Crestron is supporting with the overall audio visual systems, alongside video conferencing, room booking and the digital signage across the whole office.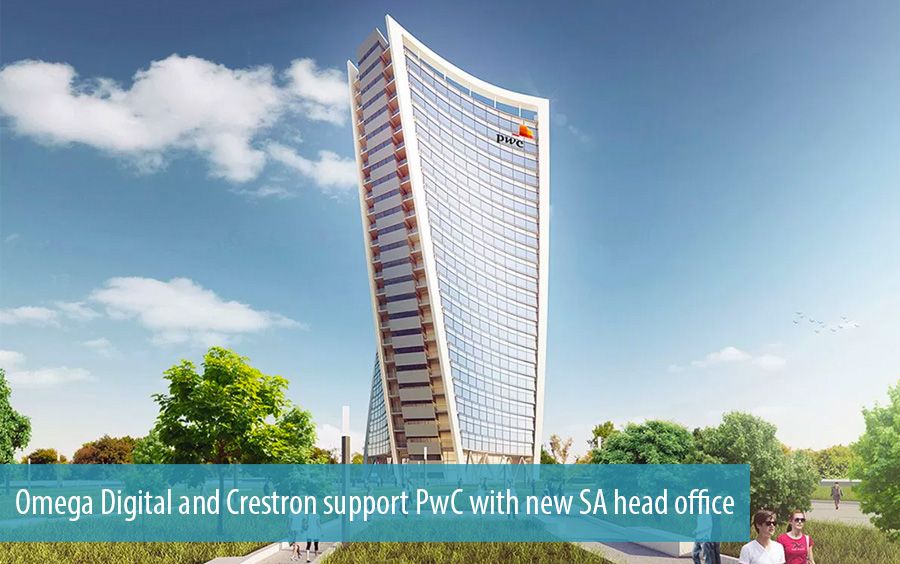 Specifically, the firm is providing technological enhancements for over 150 meeting rooms and nearly 20 rooms in PwC's training facility, which will also be on the office premises. The integrated technological system will be controlled centrally, leveraging Crestron Digital Media 32x32 Matrix Switchers, which will be located on each floor.
Commenting on the partnership, Grant Kemp, Senior Manager at PwC said, "The need to make the world smaller using video conferencing and collaboration platforms was integral to our firm's vision of our new office as well as the rest of Africa. This was where the combination of Omega and Crestron became extremely important."
Sales & Marketing Director at Omega Digital said, "All of our rooms are Crestron Certified Design, so we have even more confidence in the system to work every single time. The monitoring and control of the upgraded meeting spaces comes from the Crestron Fusion platform for a simple and easy to use solution."
He added, "PWC will have many different members of staff using the equipment and they need to be able to go straight up to one of the Crestron touch screens and know how to use it. Therefore, the standardised interfaces are so important to us. The adaptable and flexible nature of the Crestron technology made the entire process far easier and the complications much simpler to overcome."